ASIS SPORT organizes a week of shooting fundamentals and technique program with one of best shooters ever in  basketball in Spain.
From Monday 21st to Saturday 26th (Easter), in double sessions.
Monday, Tuesday and Wednesday from 9:00 to 11:00 in the morning; and from 17:00 to 19:00 in the evening.
Thursday and Friday from 10:00 to 12:00 in the morning; and from 17:00 to 19:00 in the evening.
Saturday sesión will be only in the morning from 10:00 to 12:00.
All sessions will be at the "Pabellón de la Vega de San José" in Las Palmas de Gran Canaria.
Featuring Josep M. Margall, assisted by 5 elite youth programs coaches.
Our philosophy consists of developing specific shooting fundamental skills stations tailored to the participants.
The success of the fundamentals learning process, and specially for the shot, is in the repetition and rectification of the mechanics. The work is set with constant supervision of each participant.
Each session will have multimedia support of the on-court drills and a video analysis. The participants will receive an analytical, detailed and personalized report aimed at their continuous improvement.
Since 1993 Josep María Margall has organized specific shooting campuses with participants who are now part of the elite ACB League players.
Josep Mª Margall brings his vast experience of players' individual technique development for the youth to the high level players. Some of his alumni are: Pau Gasol, Rodrigo de la Fuente, Albert Oliver, Roberto Dueñas, Alfons Alzamora, Henk Norel, Christian Eyenga, Nacho Martín, Marc Fernández, Pere Tomàs, David Jelinek, Marko Todorovic, Tiago Splitter, etc….
Last day to register: 11th of March 2016.
Cost per player: 290€
Cost per coach: 75€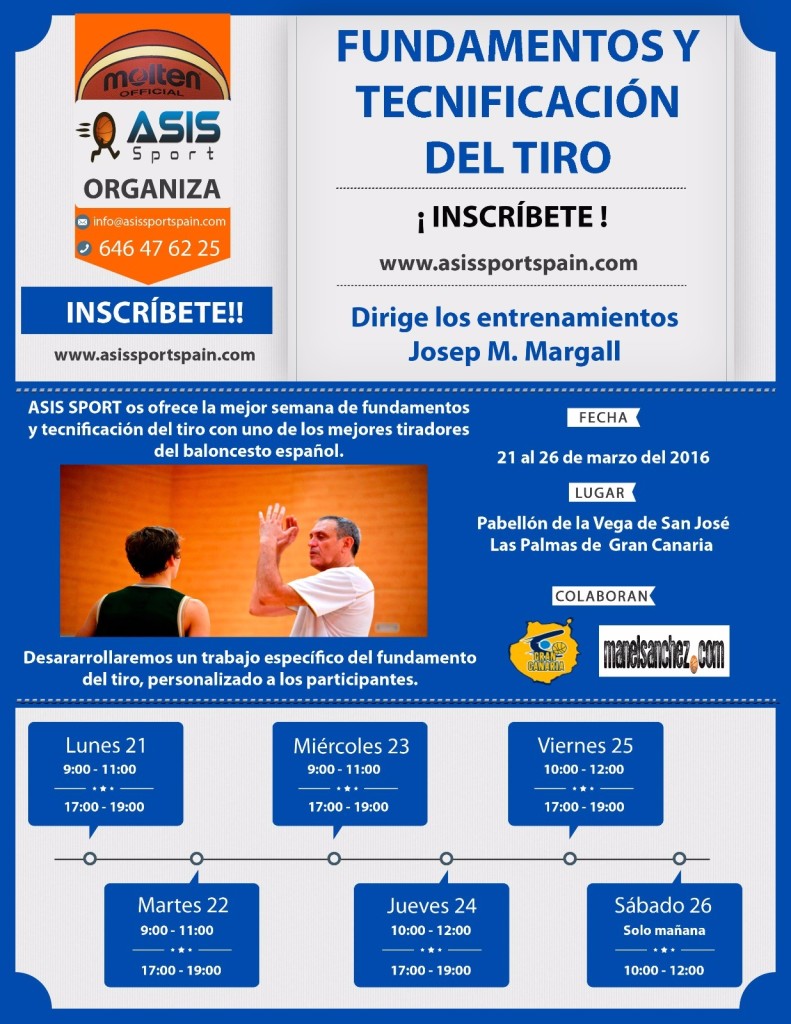 ---
TESTIMONIALS
---
José Miguel (Gabriel's father):
"This message is for all the organizers of the  shooting Clinic realized in Gran Canaria during this last Easter week.  
I ant to show my huge gratitude to all thos ehwo have organized this Clinic, but bove all to José María Margall,  the excepcional classes that he has given this week, the care and attention towards the kids and the older kids, the psychology, the loving approach, the niceness not exmpt of authority …; were simply impressive!!!. Margall for me was an idol when I was younger and now even more so.
My son Gabriel ended very happy, but I ended even happier even though I could not attend the last last sessiondue to work obligations. The potos and videos that I taped shall be kept as a treasure.  
Should he succeed or not in basketball, what my sn has learned he will surely never fortget, the same goes for me as his father.
Than you very very much, and all my best wishes for the future"
Toño (Arturo's father):
"I liked the camp very much".
Carmelo (Samuel's father):
" Congratulations from me for the camp, totally very practical and very very educational for the shooting mechanic. I loved it".
Sergio (Coach):
" I learned so much. I loved it"
Raquel (Coach):
" Thank you so much for eveything"
Rokas (Player):
"Thank you very much".